Cuyahoga Falls, Ohio – Stone Tile Backsplash
CLIENT / OWNER:
Todd Evans
LOCATION:
Cuyahoga Falls, OH
DESIGN BY:
E. B. Woods Interiors, Inc.
INSTALLED BY:
Robert Angle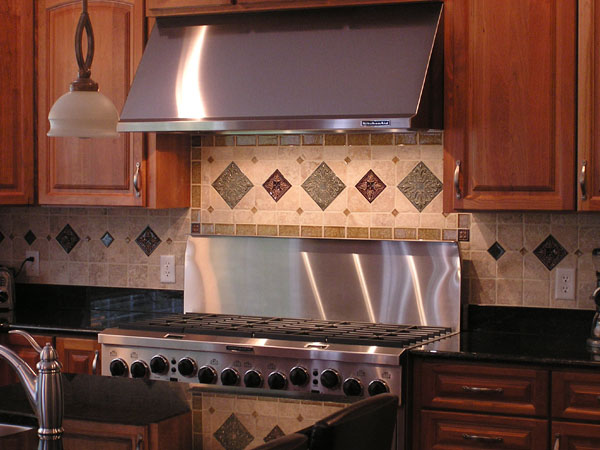 PROJECT DETAILS: 
This travertine tile backsplash in Cuyahoga Falls, Ohio was intricate and time consuming. Every single tile, besides the bottom row, had to have a corner clipped to accomadate the decorative inserts of various sizes.
This house had been around for a few years and had no backsplash at all – just a painted wall and the 4″ granite splash that they chose to let remain. Needless to say, this was quite the kitchen transformation.
The owner of this home owns a sign company in the local area, and so we worked out an arrangement for him to letter my van. Also, the family was related to a local builder, who after seeing our work, started using us as their regular tile installers for his clients custom homes.
PRODUCTS USED: 
4×4 Tumbled Travertine
Sonoma Tilemakers Tantrum Collection
YEAR: 
2005