Covid and tile installers. What a strange subject to be writing about.
EDITED TO ADD that all our tile installers have had at least 2 shots of the Pfizer Covid-19 vaccine and some have even had their 3rd booster.
Classic Tileworks and Covid-19
The sudden onset of the coronavirus pandemic affected everyone's lives in ways we had never imagined. Some homeowners started a renovation project before governments began shutting down businesses and when social distancing and wearing masks began. In Ohio and many areas, home remodeling and new construction, both residential and commercial was classified as "essential" services and so most tile and marble craftsman have been working without letup. This has been good for us, whereas many jobs have been negatively impacted by the pandemic, our tile installers have been busier than ever.
Now should you decide that you want to move forward with your tile installation project, both you and our tile setter will want to take extra precautions for the sake of everyone's health and safety. Let's talk about some of the precautions we've been taking during this time.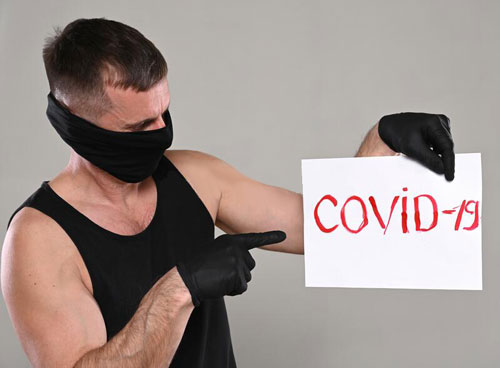 Emails and video calling
We used to receive your phone call or estimate request form that you filled out online and immediately schedule a time to come out and measure your project. Today though, many initial meetings and consultations are taking place online, either via email or sometimes over Zoom. We will usually ask about the nature of your project, as well as tell you how far we are currently booked out. This information can determine if we should continue the conversation. We may ask that you send us some photographs. Some projects, like kitchen tile backsplashes, tiled tub surrounds, and custom tile showers are easy to give a 'ballpark' number to after receiving the picture.
If there is still an interest in moving forward, we will set up a time to come measure the area in person, and give you information on visiting our preferred tile distributors for making your tile selections.
Masks and distancing are a common courtesy.
We ask that if you have been sick or are running a fever, that you please call us to discuss this. Likewise, we will do the same. At Classic Tileworks, we are taking our temperature each morning. We also ask that if you have child that has been potentially exposed to Covid-19 at school, that you make us aware of this too. We will listen to each clients unique circumstances and decide whether we should postpone work on the project, or if these individuals can be isolated enough for us to safely continue working.
We also wear a mask whenever we are together in a room to discuss aspects of the project and would appreciate if you did too. Outside of this circumstance, it is common for the client to be in another room or even another floor with their mask removed and that is okay. Some of our installers will take off their mask and hang it on something while working if the client is far away, while other installers leave their mask on for the whole day. However, ALL our installers are to put on their mask anytime they are traveling through the clients home, such as to use the restroom or to go to the garage to use the wet tile saw.
In addition to the above health and safety practices, we have also stopped exchanging paperwork. We will send you our estimate and contract terms via email and have you reply clearly stating you have read the documents and accept them. We have also stopped shaking our hands with our clients as had been customary for decades.
Remodeling is UP right now
Covid-19 has created a unique and unprecedented situation in the remodel market. We have been busier and more in demand than ever before since the pandemic started. We're not entirely sure why. It could be that many homeowners delayed projects initially when shelter-in-place orders were issued, creating a bottleneck now that projects are ramping back up. We also think that since many homeowners have been unable to take vacations because of the shutdowns and restrictions, they are saving money as a result. The stimulus checks given by the government has been a nice book to many. At the same time, they are stuck in their homes more than ever before, and so they are choosing to spend this extra money on home improvement projects, such as custom showers, bathroom remodels, and kitchen backsplashes.
We're booked out further than usual as well, so call us today to start planning your tile project now so we can get you on the schedule sooner rather than later.