It's easier than you think
Proper tile care and maintenance can keep your tile installations looking beautiful forever. Ceramic and porcelain tiles are some of the most durable and maintenance friendly surfaces you can choose today. Your tiled floors, custom showers, countertops, backsplashes, and more, can retain its original beauty and luster almost indefinitely when cared for. Proper care does require some rather easy, minimum maintenance. Generally, all that is necessary to keep your tile looking as good as new is a quick wipe with a clean damp microfiber cloth or mop.
You would also want to give immediate attention to wiping up any spills rather than letting them set. While a damp microfiber cloth is usually all you need, you can use a little Dawn dish soap and a white scrub pad or nylon bristle brush (even a toothbrush) for more difficult substances stuck to the surface. Usually, the agitation from the scrubbing is all that is necessary.
If a cleaner is necessary, Classic Tileworks recommends the use of low VOC (volatile organic compound), neutral pH, non-hazardous, and non-polluting products. The following are great for daily or routine maintentance….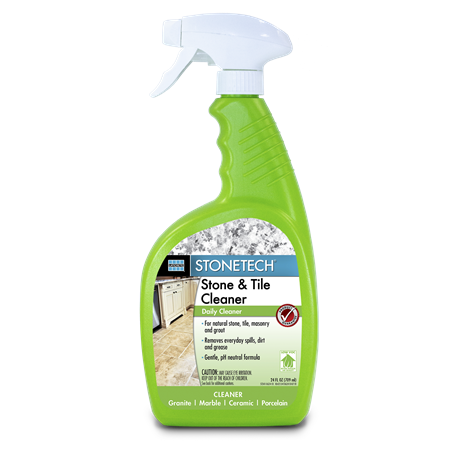 STONETECH
Stone & Tile Cleaner
This product is great for the daily maintenance of tile and stone. Removes everyday spills and light stains. Clean, fresh scent.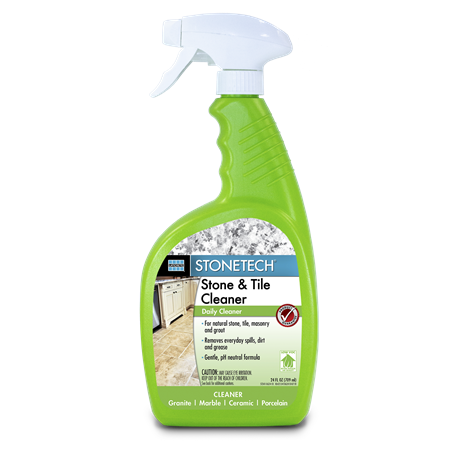 STONETECH
Quartz & Tile Cleaner
An even gentler formula for the daily maintenance of quartz, engineered stone, and polished surfaces. Removes everyday spills and light stains. Clean, fresh scent.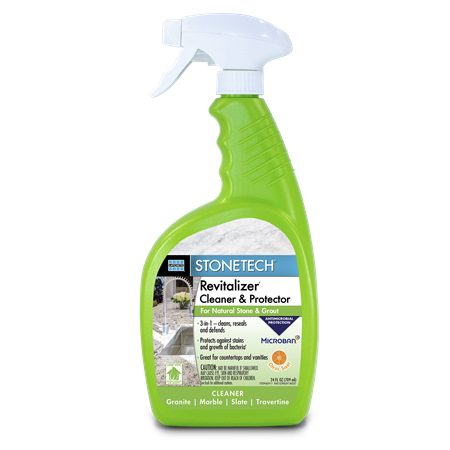 STONETECH
Revitalizer, Cleaner & Protector
This 2-in-1 formula has built-in sealer so it cleans and reseals natural stone. Makes surfaces easier to clean.
But what about that bathroom? 
Tiled surfaces in your bathroom may require a more thorough routine cleaning because of a build-up of soap scum, body oils or hard-water stains. Just like we said above, start with a clean, damp cloth, or sponge with a neutral pH cleaner. Allow the cleaner to stand about five minutes before rinsing and drying. You can move up to a white scrub pad or nylon brush to help agitate and scrub unwanted material off the surface before rinsing. However, try to avoid using these on polished stone, glass, or metal tile surfaces since they can scratch easily. Clean your shower regularly with the appropriate tile and stone cleaner. Dry with a towel after each use and leave curtain or door open between showers to allow for maximum ventilation and moisture escape.
Specialty bathroom cleaners may also be used (always test first). Better yet are products designed specifically for tile cleaning and maintenance. These will usually be in the tile setting material isles at the big box stores and not necessarily over among the cleaning supplies.
The following products are not daily maintenance products, but rather are considered problem solvers which are for periodic use as necessary.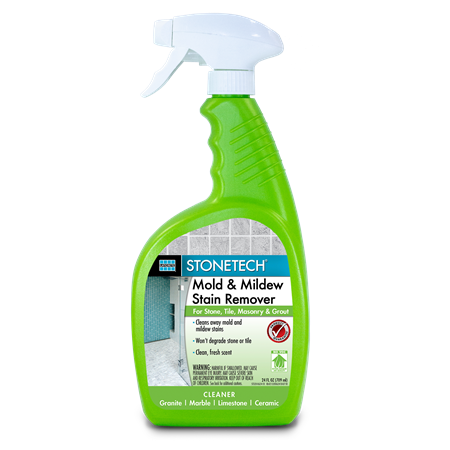 STONETECH
Mold & Mildew Stain Remover
This product cleans away mold and mildew stains. Works on natural stone and will not degrade stone or grout.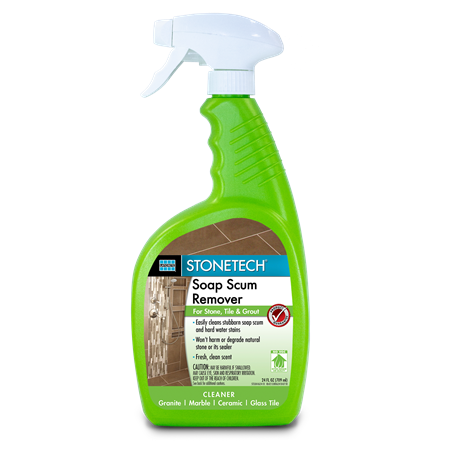 STONETECH
Soap Scum Remover
This product removes stubborn soap scum, hard water stains, and dirt without scratching. Safe for use on sealed natural stone, ceramic and glass tile surfaces.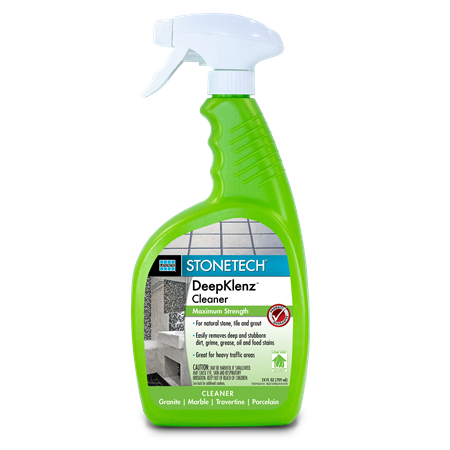 STONETECH
DeepKlenz Cleaner
This product powers through stubborn grease and food stains. Water-based alkaline formula. Prepares surfaces for resealing.
Beyond these products, there are even stronger, more heavy duty problem solvers where getting assistance from a professional may be recommended. There are also more specialty maintenance products and various sealers and color enhancers available as well. You can check out the full STONETECH product line on this page: Tile & Stone Care & Maintenance