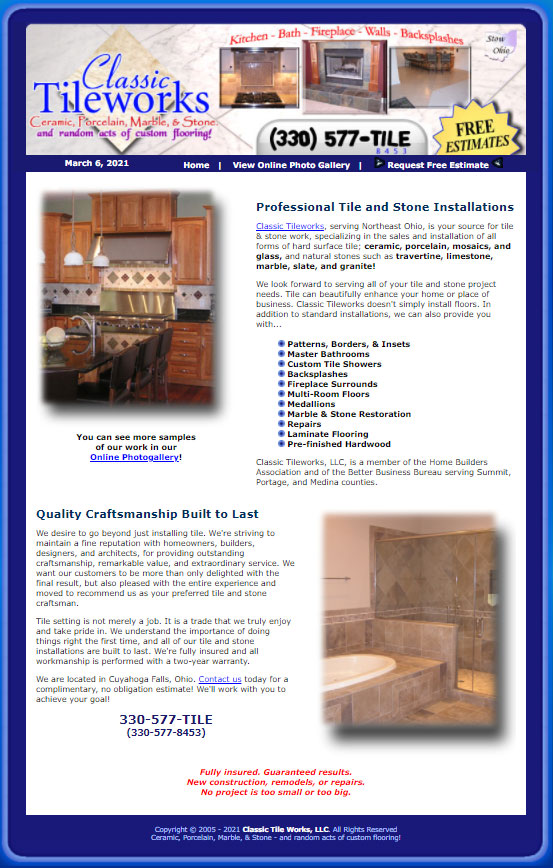 Build a website? But of course!
Before I learned to be a tile and stone craftsman, I had done several menial things prior to that. But one of my passions was technology, the internet, and web design. I have designed and hosted a a number of websites over the years, starting back around 1997 and still maintain a handful of them today. Back then, there were no content management systems (CMS) and you had to learn how to code HTML by hand in a Notepad or other text editor. So when I started Classic Tileworks in 2005, creating a website for my business was a no brainer.
It was also a fairly simple and straightforward approach. I needed to write a little bit about what I do, and what I can do for my customers. I also needed to showcase some of the work that I had been doing by means of photos. There were no social media sites like Facebook and Instagram back then, so creating and maintaining a website was absolutely necessary. In fact, even in the age where social media platforms dominate a person's online time and experience, having a dedicated webpage and domain for your business is still necessary. A website today is like a brochure or business card, part of your bag of marketing materials that showcase your product or service.
But maintaining and keeping that website up to date, on the other hand, was a different story.
So when you hand code each individual page, resize every picture, use an FTP program to move everything up onto the server, it takes a ton of time. My new business, Classic Tileworks took off rather immediately. I found ton of work in the remodel market for the remainder of 2005, and in 2006 started landing several local area builders doing the ceramic and porcelain tile in both spec homes and custom homes. By 2007, I had 3 other subcontractors and their helpers doing work for me alongside my helper and I and we were churning out a new construction home every other week or so.
Finding time to upload pictures to the web became a burden that I just felt too exasperated to work on, and so nothing changed from 2005 to 2008 when the market crashed. Then I had the free time, and the desire, to bring things current. The old hand coding HTML page was still a time-consuming nightmare though.
Then business started to pick up again. My family and I moved, the kids needed more attention, and so keeping the website up to date started to get neglected again. In fact, I didn't touch ClassicTileworks.com from 2008 until 2018.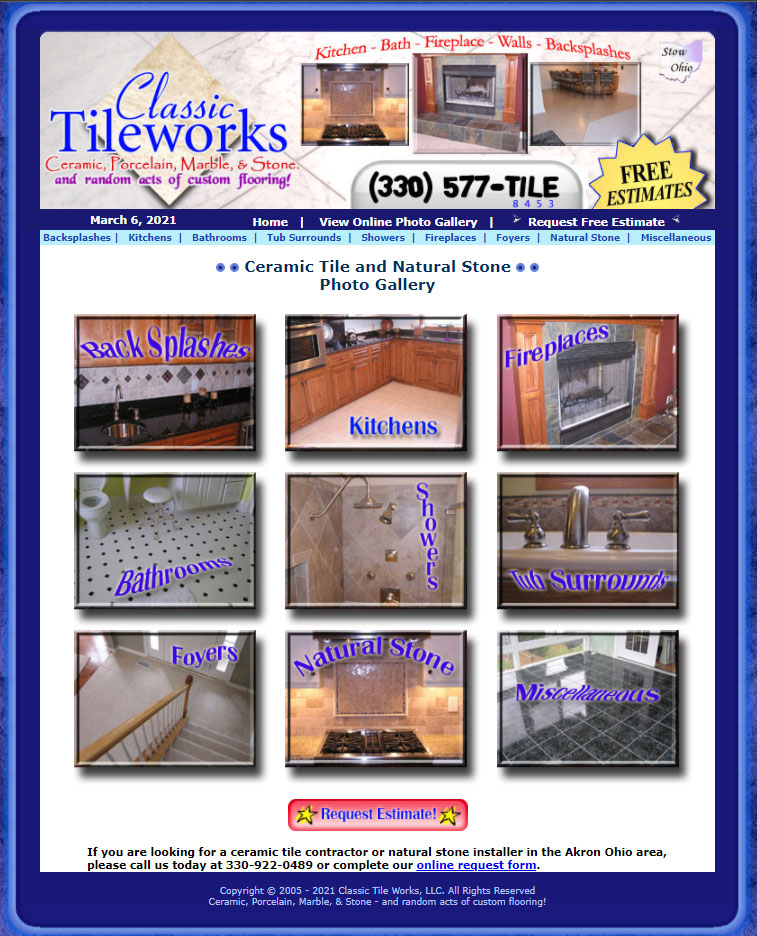 Help me WordPress! You're my only hope!
I can't remember when I started dabbling with WordPress. To learn how it functioned, I started a personal "blog" as my testing ground, which is what WordPress was originally created for. Eventually, it blossomed into a whole website content management system. Eventually, I used it to build a site for my Uncle as well as for a couple friends of mine.
In 2016 I tried converting the Classic Tileworks website over to WordPress, and would search for a template that looked similar to the design I had originally come up with in the 2005-2008 era without much success. Then suddenly it became important to make sure that a website displayed appropriately on both a PC as well as a smart phone display. As such, it became necessary to abandon the old design and start from scratch, making sure that my pages would be "responsive" to the type of device and screen being used to view it.
My hunt for responsive themes wasn't producing anything that I liked. Maybe it's because I am not fond of just copying something else and changing all the pics. Seems generic to me. Eventually I stumbled across a WordPress theme called Divi by Elegant Themes, and that it what I am using to this day.
WordPress is able to manage the content. Uploading to wordpress and creating posts, pages, and galleries is fairly straightforward and easy. Divi allows me to edit on the front end, instead of in an editor, and has some nice widgets and modules to boot. As of right now, I think this is the best combination to maintain the website.
Of course, it is still time consuming, and I might go months at a time without adding more pictures to the portfolio gallery. It's certainly easier to upload to Facebook or Instagram, but a website is simply more professional. It's going to take a long long time to be completely current. I've got 13 years of photos of our work to share and plan to eventually have it all online for everyone to view. But, I am resolved to do it, and I think I have the tools now to make it happen.